With high expectations, Mike Fariss calls on Christian African-American students to step forward and lead a new international missionary movement. Celebrating their global- leadership potential, the veteran urban missionary makes this positive challenge from Jesus Christ's Great Commission in the Bible.
Coach Mike ministers as President/Chief Executive Officer of Urban Discovery Ministries in Norfolk, Virginia. He provided leadership for planting urban churches and a school.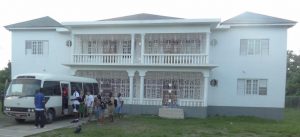 Mike co-established the George Liele Objective for Black Enterprise (GLOBE) partnership between UDM and the Buff Bay Baptist Church in Jamaica.
He designed UDM's Vanguard 2022 Project for mobilizing African-American leaders for global outreach.  He coaches AAU and school basketball teams. Mike and his wife, Kim, have four children and four grandchildren.